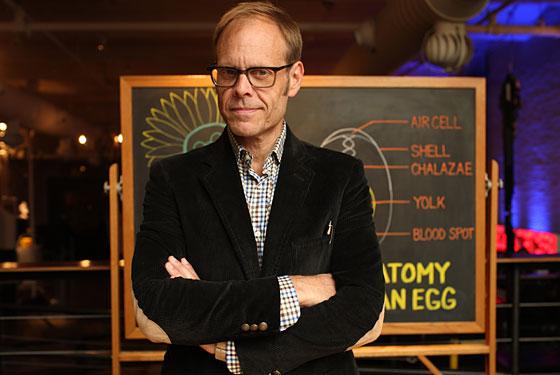 Food Network star Alton Brown brought his traveling show to Jacksonville on February 8, and my foodie husband and I attended.  We'd long been fans of Brown's entertaining and nerdy approach to cooking, and we've learned a lot over the years about how chemistry, physics and engineering can affect the cooking process from his original show Good Eats. Brown puts on a smart, funny and entertaining show, part science experiment, part comedy show and part rock concert. We thoroughly enjoyed ourselves. His success also got me thinking about how to create a career you love. Here are three lessons I took away.
Align your career with your passion. Brown loved food and cooking all his life, and was a serious amateur cook. But he pursued entertainment as a career, studying film at the University of Georgia and working as a cinematographer and video director in the early 1990s. He writes in his autobiography that he watched hour upon hour of cooking shows between takes on video sets, eventually coming up with a concept for a better cooking show, which was inspired by combining Julia Child with Monty Python.
It's your responsibility to work on your experience and skill gaps. Brown knew he'd need credentials to be taken seriously as a cooking show host, so he moved to Montpelier, Vermont to attend the New England Culinary Institute. In his Jacksonville show, Brown mentioned working in a Chinese restaurant and on a 3:00 AM shift baking bread to pay the bills and build his skills while he was working on his Good Eats  vision. He gave up security and stability in order to prepare for his dream job.
Stay hungry. (Pun intended.) Brown was one of the first Food Network Stars, and achieved fame and fortune with his show. He won both a Peabody Award and a James Beard Award.Although he'd been able to work at his dream job, he never stood still He has authored several books, including I'm Just Here for the Food, which won the James Beard Foundation Award for Best Cookbook, and was one of the best-selling cookbooks of 2002. He walked away from Good Eats after 13 years to go on to produce and appear in several other Food Network shows, and now stars in a national live performance tour. He realized that he had to continue growing in order to remain marketable.
Although you may not have the talent (or ambition) to be a Food Network star, your career is what you make it. Many workers believe that their success, earning power and employability are in the hands of others: their boss, their customers, or the market at large. Bust you can take steps to make the most of your work.
Take on tasks (or a sideline) that allow you to perform tasks you really enjoy. Ask for stretch assignments that help challenge and engage you fully on the job. Or find a volunteer opportunity or consulting gig that will bring in income and allow you to do what you love.
Make a resolution to master a new skill each year. Learn a language (or programming language.) Take a class or get a certification. There's no such thing as standing still; you're either growing or shrinking.
Evaluate your career each year. Take an objective look at where you are and how competitive you are in the market. If you're well compensated, challenged, and generally like your company and customers, stay. But if it's time to move on, have the courage to be open to the idea.
Stay hungry, my friends.